The scientific journal «Nuove Musiche» is the result of a partnership between the Department of Humanities of the University of Palermo and the Prometeo Foundation of Parma. Provided with an international scientific committee, and using peer review procedures, the journal will be released every six months, in multilingual edition, in both digital and printed version. Its object of study is the worldwide field of contemporary music, with a privileged look at the Italian situation.
---
Issue 3 (end of 2017) and issue 4 (mid 2018) of «Nuove Musiche», both dedicated monographically to the works and the figure of Jonathan Harvey, will be collected in a double issue, whose release is scheduled for mid 2018 .
The release of issue 5 is regularly scheduled for the end of 2018.
---
Issue 2 - 2017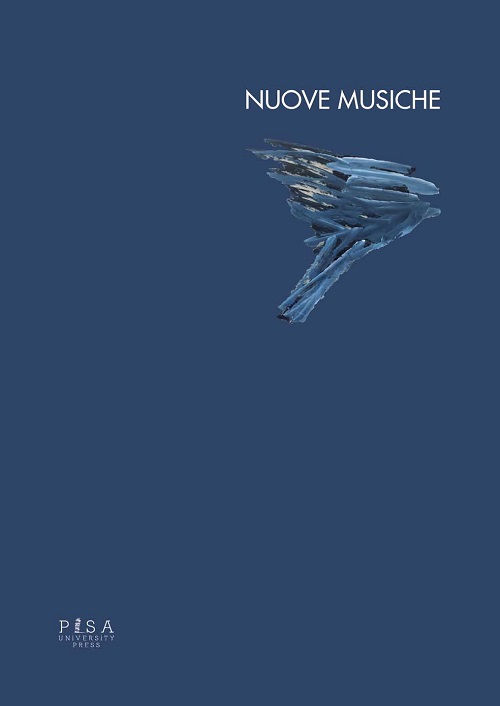 Index
---

Nuovo e clichés a cura di Stefano Lombardi Vallauri
---
#Sounds
#Voices
#Instruments
#Players
#Composers
#Organizers
#Concerts
#Festivals
#Institutions
#Places
#Contexts
#Media
#Audio
#Video
#Technologies
#Tecniques
#Poetics
#Styles
#Genres
#Forms
#Structures
#Systems
#Researches
#Mixes
#Borders
#Constants
#Singularities
#Trends
#Traditions
#Novelties
#Works
#Performances
#Writing
#Teaching
#Practices
#Skills
#Debates
#Values
#Functions
#Meanings
#Emotions
#Sense
#Listening
#Experience
#Criticism
#History
#Theory
#Analysis
#Aesthetics
#Knowledge of


contemporary music